Online reputation is crucial in today's digital world. It takes hard work to build a strong online reputation. However, a few negative reviews or a mention in the media can bring it down.
Many companies realize that they don't have control over the online opinions of their customers. However, they can improve their online reputation by listening to their customers and addressing any issues immediately.
What is Online Reputation Management?
Online reputation management is a mix of strategies marketers use to influence people's perceptions about a company. It builds trust and positively influences buying decisions when done right. Online reputation management includes review management, monitoring social media, and community engagement.
How is managing your business's online reputation important?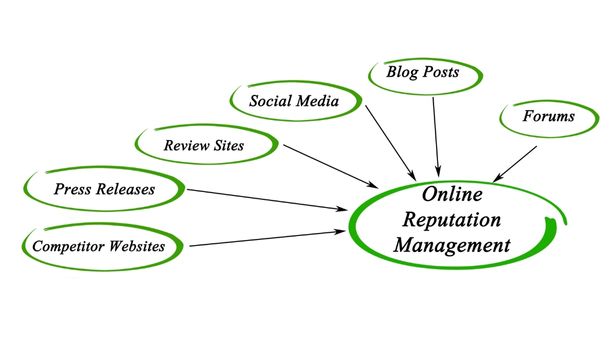 Your online reputation is the first impression you make. Do your best to make an impression online. By managing your online reputation, you can ensure that your business is trustworthy and credible.
Online reputation can make a big difference in buying decisions. This is especially true since most consumers read an average of 10 reviews before deciding to trust a business. 79% trust online reviews more than personal recommendations.
People are less likely to trust a brand that doesn't reflect their values. Please continue reading to find out our top 8 tips on online reputation management.
1: Keep an eye on your online reputation and web presence
 monitoring of your brand helps you see what your brand image is right now. This is the first step. It can be difficult to improve any aspect of your brand if you don't know what's good and bad.
Depending on your brand's location, what you monitor will depend on what you are watching. Are people talking about you on social media? Forums? Review sites such as TripAdvisor and Amazon? Are you even aware?
Monitor review sites if you own a restaurant, bar, or tourist attraction. You can bet people will review your physical location on Yelp and TripAdvisor. If you sell physical products, you should also keep an eye out for Amazon, eBay, and other online retailers.
Blogs are an option, in addition to the obvious review sites. There are also forums, blogs, news websites, and all other social media you need to be concerned about. To have a complete picture of your online presence, you must keep track of all conversations.
People talk about your brand on the internet all the time. It is impossible to keep track of all the conversations you have on your own.
2: Some tools can help
We recommend that you track your brand with Mention. This allows you to track any conversation about your brand online and generate reports and analyses with just a few clicks.
A media monitoring tool that is reliable and easy to use allows you to monitor all of your media from one dashboard.
3: Before it becomes a major problem, fix it!
Even the most established and reputable company can post a bad review online. Your company's response to negative reviews can make the difference between happy customers and a situation that escalates into a bigger problem.
An active online presence can be a great way to pacify customers and prevent your company from falling apart. Although it is impossible to please everyone, reaching out to unhappy customers and offering alternative solutions could change how your customers view you.
4: Monitor your online presence at review sites
Pay attention to what customers say about your business and write reviews on review sites such as Google and Facebook. This allows you to quickly identify and correct small problems before they become major issues that can cause irreparable damage to both your online reputation and your bottom line.
It is important to keep an eye on your competitors! Customers will likely search online for multiple businesses, regardless of whether they are looking for a new restaurant or a dental practice.
It's important to check out what other customers have to say about your competitors via review sites. You can identify areas where your competitors excel and where you are failing to do so that you stay ahead.
5: Create high-quality content
Let's start with your content marketing strategy. In the hope of attracting more visitors to their websites, marketers and business owners spend a lot of time creating content for blogs and social media.
Let's be clear: If your content quality is poor, it won't be easy to build a following. Many websites have sprung up in response to the information boom of the past decade, many with similar content.
What makes one brand more successful at building relationships than the others? Your content must be actionable, informative, and entertaining. Finding the right combination of elements cannot be easy, especially for those new to writing.
If you are willing to interact with your audience and learn what they want from you, you can create high-quality content that meets their needs. Your company will become an industry expert if you have more relevant content on your site. You build a positive reputation by being seen as an expert.
6: Social Media Monitoring
It is not enough to have multiple social media profiles for your company. Management must be kept current and regularly maintained to attract organic followers. You can
You can increase your influence, engage more people, and communicate with potential customers by updating your social media accounts with interesting and entertaining content.
You should also ensure that your social media accounts are maintained after they have been created. This will make it difficult for negative reviews to be able to rank your account higher on any particular social network.
Negative reviews and even one customer complaint can severely affect conversion rates. This is why even 1-star or 2-star reviews are not enough to get 86% of potential customers. This is a severe risk to startups who rely on high value to launch their businesses.
Conclusion
One chance is all it takes to make an excellent first impression. Investing in your online reputation should be a top priority for your business. Your online reputation is not built overnight.
Customers who talk about your brand make it. You can control and manage your reputation from the beginning to ensure that your company is seen in the best light.