This post will explain How to leverage publicity using social media and SEO. Many business owners are unaware that SEO and social marketing are two separate entities. Each operates in a different world with its own goals.
SEO and organic social media marketing are integral to your strategy to provide value and relevance for your customers. A good digital marketing strategy should have both social media and SEO working in tandem.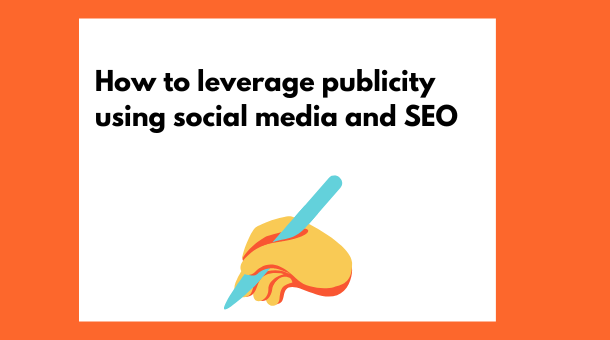 Top Steps: How to leverage publicity using social media and SEO
1. Set your goals
It is important to establish short- and long-term goals. While your optimization may lead to new goals, having clear goals will ensure you achieve your desired outcome.
It is tempting to keep your goals in your mind, but if you want to make the most of your efforts, you should write them down and share them with your business. It is important to align your goals with the business. There will be many decisions and possible courses of action.
2. social media can be used to engage audiences
Social media is a powerful tool for building awareness and inviting prospects into your brand's fold. Social media requires mobile-friendly, snackable content that is relevant and easy to consume.
You can post helpful tips and guides about your product. And, you should always create content that inspires people to share it. Engagement is also important.
Social media is more conversational than a broadcast medium. Ask questions to encourage others to comment on your posts and respond to posts using hashtags that relate to your business.
3. Create Link Opportunities
Backlinks are an important SEO element. You can get other websites linking back to your site by creating content that is shared and discussed.
Your content will be shared more often, which increases the likelihood that someone will link to it. Promote social media posts that link to your website and encourage your followers to share the content. This will increase backlinks and, ultimately, your website's traffic.
Monitor social media (for content ideas). Are you looking to learn more about people's opinions about your brand? To resolve customer questions faster, participate in the conversation about your brand or keep up with market developments? You need to know how to monitor and track social media.
You can monitor social media to track brand performance and determine what your audience watches, listens to, and follows. These insights can improve your content, inform your Social Media Marketing, or engage your audience.
You can make your marketing more effective and targeted by identifying where your audience spends their time. You can find more content ideas for your company by monitoring your social media.
4: Test Content Performance (with Social Media Ads)
A targeted keyword can be used to quickly assess the performance of your content in social media ads. This will increase its visibility and let you see how people interact with it.
It can be difficult to get started with advertising for small businesses. You can easily become overwhelmed by the number of advertising options available. Understanding the principles behind campaigns is key to staying on top of your company's affairs.
Channels change, but the principles that underpin campaigns are timeless. Understanding the psychology, communication, behavior, and strategy that bring about meaningful growth is key.
How does social media Directly Impact SEO?
Google repeatedly stated that it doesn't consider social media followers, likes, and shares ranking factors.
Google may ignore some profile metrics, but that doesn't necessarily mean social media isn't beneficial for SEO. Here's how to get started:
When you push content across social media and people engage with it, you amplify your reach.
 When more people engage with your content, you build more authority.
And the previous two together help get you in front of your target audience.
Combining this with content from your site driven by keyword research creates an SEO flywheel that will always work.
Do the SEO prep work to leverage publicity.
It would help if you first optimized your homepage to maximize publicity using SEO.
The homepage of your website will be the most important link in your digital media coverage. Make sure your homepage targets a key phrase.
Conclusion
How to leverage publicity using social media and SEO! Both SEO and content marketing are interrelated at multiple levels. Both of these strategies are necessary to increase your online presence. You can use your SEO data to identify gaps in your content strategy and develop fresh content ideas.
You can also identify link opportunities and gain insight into the strategies of your competitors. The key to developing a successful content marketing strategy is your SEO data. You can improve your content marketing strategy by performing careful analysis.
FAQ About: How to leverage publicity using social media and SEO
How do you leverage social media ads?
You can post on the relevant social media platforms.
Optimize content for every platform
Be consistent.
Engage your followers.
Influencer marketing is a great idea.
 Does social media marketing help SEO?
Social media is great for attracting people to your site if you start SEO. SEO can take several months before you see results. While it is worth the wait, you may not immediately get the traffic you want.
How are marketers effectively using social media?
Social media networks are available to everyone, allowing businesses to follow their customers' activities and potential buyers. This allows marketers to understand better their target audience's likes, dislikes, and interests, so they can develop a better marketing strategy to attract these customers.
Do hashtags help SEO?
People often ask if hashtags can help with SEO. Yes, hashtags are keywords. They allow you to categorize and make it easy for social media users to find your content.
Does posting on Facebook help SEO?
Social media is a powerful tool for SEO. Facebook can help increase your domain's authority by helping you to get high-quality backlinks. This will allow you to appear on Google's first page when you search for certain keywords. You can also benefit from more traffic.
How to leverage publicity using social media and SEO:
How to leverage publicity using social media and SEO:
How to leverage publicity using social media and SEO:
How to leverage publicity using social media and SEO:
How to leverage publicity using social media and SEO: