In this Article, we will discuss What is the Importance of Social Media Marketing? This led many marketing professionals to refocus on their social media marketing strategy.
Social media allows marketers to connect and engage potential customers where they are at LinkedIn, Twitter, Youtube, Facebook, Instagram, and even some of the younger platforms like TikTok. With a solid social media strategy and the ability to create engaging Content, marketers can engage their audience.
Social media will continue to be an important strategy in 2022, and companies can always find ways to advance their approach.
What is the Importance of Social Media Marketing in Business?
 
Even though B2-B companies seek to sell products to other businesses, B2-B marketing is still built on human relationships. Social media has long been used to help grow these relationships, but its importance accelerated last year.
Without in-person events, B2B marketers needed an outlet to connect with prospects and partners. And they found they could do this most effectively via social platforms.
By using social media, B2B leaders:
Build Brand Awareness
Generate Leads
Nurture Leads
Implement Social Listening
Connect Social Posts to Opportunities
Measure Marketing Efforts
Build Brand Authenticity
Drive Thought Leadership
Grow Your Audience
Build a Community
How to Get Started With a Social Media Marketing Strategy?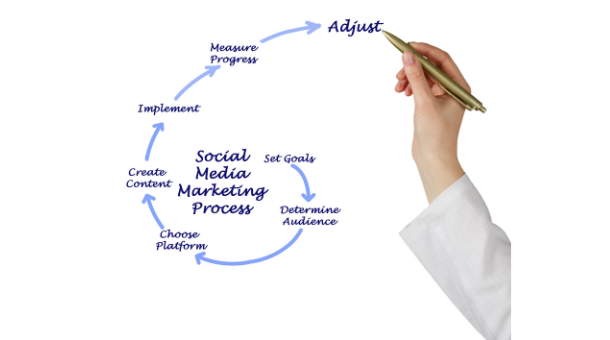 1: Create a social media strategy by answering Key questions
Before publishing posts, develop a social media strategy that executives, the legal team, marketing, and sales will agree on. Identify why social is being used as a marketing and sales channel and if there will be any roadblocks. For example, regulated industries like financial and healthcare must follow strict rules.
2: Choose a social media management tool.
Several social media management tools help social media managers plan and distribute their Content. Top tools include Buffer, HubSpot, Zoho Social, Falcon.io and Hootsuite.
Many of these tools help companies reach audiences on Facebook, Instagram, and Twitter. To reach target audiences on LinkedIn, LinkedIn Sales Navigator is a premium tool for information on leads, and it gives you the ability to send InMail messages to target accounts.
3: Train employees
Once a policy is developed and tools set in place, it's time to train employees. Whether they must attend a training webinar or read an employee social media handbook, employees must know the expectations. Be sure to include the regulations and train employees on what drives engagement with future customers.
4: Identify and collaborate with industry influencers.
Influencers aren't just for B2C. Identify savvy employees on social media who would be a good fit to partner with your industry's influencers by interviewing them on a live stream, webinar, or podcast.
5: Create a Content calendar and approval process
One Key to successful social media marketing is organization and attention to detail. To publish engaging Content, social media teams need to establish a Content calendar and approval process.
How many Types of social media marketing?
1: Social Networking Sites
The term "social network" is synonymous with Facebook, although the big-picture concept applies to most major social sites.
The purpose of social networking is pretty straightforward: to provide users with a platform to connect with others. Of the various types of social media, networking sites such as Facebook, Twitter and LinkedIn represent the bread and butter of modern marketers.
After all, these sites put marketers on a level playing field with their clients, customers and leads when it comes to, well, networking
2: Image Sharing & Messaging Sites
We currently live in an era of digital marketing dominated by visual Content. HubSpot notes that visual Content on social media receives more engagement than written Content. Visual assets have also become a top priority for modern brands.
As a result, new types of social media-based primarily on images have emerged. Image-sharing platforms like Instagram and visual messaging apps such as Snapchat exploded in popularity recently. Instagram is on a fast track toward one billion users as Snapchat's recent IPO has dominated the tech world in 2017.
3: Video Sharing Sites
Put video boasts more shares and conversions than any type of marketing Content. Much like image-based social sites, video hubs like YouTube and Vimeo are attracting visitors in droves via visual Content.
YouTube boasts well over one billion daily users, signalling itself as a significant player in the social sphere. While some may doubt YouTube's status as a social platform, its massive community of creators would beg to differ.
4: Social Blogging
In the wake of social networking, many critics may claim that traditional blogging has gone the way of the dinosaur. That said, brands who blog receive more leads and SEO juice than those who don't. Despite the numerous types of social media platforms out there, there's still plenty of power in blogging.
What are some important social media skills?
Excellent communication first social media skill you must have is – communication. It goes without saying that if you want to represent an organization and engage with its customers, you must have strong communication skills.
You also need good communication skills to get along with colleagues, put your ideas and campaigns into words, and be your brand's voice on a global stage!
1: Creativity 
One of the most important attributes of social media marketing skills is creativity. Social media users tend to unfollow a brand if the Content shared is repetitive or boring.
To keep followers engaged and hooked, social media marketers must consistently develop new and engaging ideas, creative initiatives, and campaigns.
From interactive Content to contests to viral videos, social media marketers need to think of innovative ways to stand apart from the millions of others on social media.
2: Writing Ability
Although images and videos dominate many social media skills, writing also plays a critical role. Whether creating a post or crafting a tweet, writing is essential to a social media marketer's job profile. If headlines aren't magnetic or captivating enough, people will likely not be motivated enough to click.
3: Content Curation 
Content curation has always been a major part of social media marketing skills, primarily for those businesses that do not have the time to create a steady flow of Content on their own.
Content curation is an important social media marketing skill since they will need to know when to share, what to share and how to share, in addition to being familiar with Content sources and audience preferences.
4: Project Management
As multi-taskers extraordinaire, social media marketers need good project management skills. They must create publishing schedules, track contacts, and maintain social media profiles.
They will need to run reports, meet with designers and writers, manage ad budgets, and much more. With strong project management skills, the best social media managers will stay on top of all tasks and know when Content needs to be published, what to plan for, and how to keep track of all the social media conversations going on.
5: Aptitude to Learn
You already know technology changes constantly, and new social media platforms appear while new features are regularly added to the existing platforms, be it Instagram reels or LinkedIn stories.
In addition to that flux, consumer expectations can also change on a whim. A good social media marketer willingly learns on-the-fly as needed.
What is the role of a social media marketing manager?
One of the most crucial roles played by social media marketers is communicating a brand's message to their targeted audience. Let's delve deeper into how social media marketers add Value in their respective contexts.
Developing Social Media Strategy
Identifying the Target Market and Relevant Social Networks 
Creating Content for Multiple Social Media Channels
Obtaining Followers and Engagement 
Boosting the Website Traffic
What Qualification & Skills Required for Social Media Marketing?
Essential skills needed to excel as a social media marketer include the following.
1: Copywriting
Copywriting is one of the Key skills that social media marketers should develop to excel in their job roles.
2: Graphic Designing & Video Editing
Given the growing demand for visual and video Content on social media platforms, graphic designing and video editing are counted among the set of essential skills in the social media arena.
3: Analytics
Tons of digital data are generated from social media platforms daily, providing useful insights to businesses. Good analytical skills are a must-have for social media marketers in the contemporary.
4: Consumer Psychology
Being able to understand customer psychology is what distinguishes good social media marketers from the Crowd.
5: Community Engagement 
Community engagement is a necessary skill for social media marketers as they are responsible for building and maintaining a customer Base.
Conclusion
What is the Importance of Social Media Marketing? Social media marketers have an expansive role in effectively managing a brand's online presence. They help effectively communicate a brand's message to the audience on relevant social media platforms and implement social media strategies to achieve the objectives.
FAQ about What is the Importance of Social Media Marketing
What are the daily duties of a social media manager?
According to monster.com, "social media managers are responsible for developing and implementing marketing strategies for a business's social media sites. This might include blogging, creating social media profiles, managing regular posts and responding to followers.
Is social media marketing a skill?
Although you're using social media as a tool, you're still marketing, which means a must-have social media skill is marketing. You need a solid understanding of basic marketing principles. You don't need a marketing degree but good foundational knowledge about how marketing works.
What skills do you gain from social media?
Brand Awareness.
Brand Marketing.
Campaign Management.
Community Management.
Content Distribution.
Directing Traffic.
Execution.
Identifying Problems
Why is social media management important?
A Social Media Manager is integral to any online marketing strategy. They understand how people think, act, and behave because consumers are at the crux of social media, and developing strong relationships with them increases leads and sales.
What are the objectives of social media marketing?
Heighten brand awareness. Increase social community size. Accurately target audiences. Strengthen engagement strategies for increased brand loyalty.
How do social media managers get clients?
Your network is your net worth. …
Connect with other agency owners/find other businesses within your niche. …
Create a Value offer like a complimentary social media audit. …
Invite prospects to a free social media workshop. …
Check out Upwork or Fiverr.